Sehaire
Jump to navigation
Jump to search
=CoffeeMUD Areas=
A
B
C
D
E
F
G
H
I
J
K
L
M
N
O
P
Q
R
S
T
U
V
W
X
Y
Z
===Sehaire===
Description:
This peaceful township is home to many halflings.
Author:
Morik modified
Currency:
Gold coins (default)
Rooms:
60
Population:
104
LevelRange:
2-50
MedianLevel:
5
AvgAlign:
pure neutral
MedAlignment:
pure neutral
Economy:
Languages:
Recommendation:
Recommended for evil adventurers levels 4 through 8.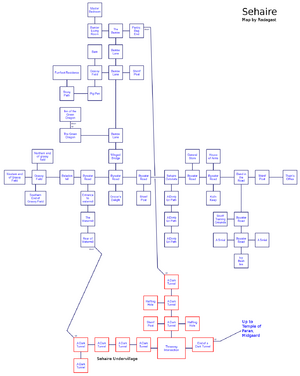 Useful Items
Quests
Connected Areas
Shops
Trainers
The battle master is a Halfling and can practice the Halfling racial abilities of sling proficiency and fast slinging.
Notes
.